Good morning, Texas!...with a dead car.
You see, I don't like to be hot. Really. I can handle it at the gym when I'm supposed to be all sweaty anyway or when I'm at the beach and I can just hop in the water. But definitely, definitely not when I'm sleeping. So, when it was still 100 degrees outside at 10:30 pm when we ready to go to sleep (in Ernie, remember), I knew that there was going to be a problem.
But, boy, I didn't know how much of a problem.
Turns out, in my travel-induced exhaustion I fell into a mighty deep sleep. And in this Mecca of the REM cycle, it seems that I did the road trip version of sleepwalking: I sleep air conditioned. No joke.
This is kind of an amazing feat when you think about it. I had to find the keys, put them in the ignition, double tap the power button, turn on the air conditioning. Also, I rolled down my window. All without waking up. And I have zero recollection of any of it.
So, we got a jump and that was that...on the road again!
We didn't stop in Texas again, but here's what Madi(e) has to say about Texas: "I was pleasantly surprised by Texas. I never thought I would like anything about Texas. And apparently, the wind is super strong down there because all of the trees bend left when you're driving east and right when you're driving west. Oh, and the amount of haze over the flat golden landscapes still doesn't quite make sense to me; there's nobody out there, how can it be dirty?"
Then we got Oklahoma! Let me tell you, Oklahoma is something to sing about.
We stopped at the welcome center, which had a few items of note: a super friendly lady that did not like that I didn't know what the Oklahoma Land Rush was, cold water that tasted fantastic and, perhaps most importantly, the most flattering mirror in the world. Seriously. Check it out:
Our only destination in Oklahoma was Oklahoma City. The only district we decided to explore was Bricktown. The only thing we decided to check out in OKC was the American Banjo Museum. Sounds pretty rad, no? Starting off with an 8 minute introduction about how the banjo is native to American music and stayed that way until the 30's, we spent the next 10 minutes looking at their very large collection of banjos. I never knew the banjo was a popular enough of an instrument to 1) have a museum, excuse me, a National museum, and 2) that there were so many different makes and models that it took at least 10 minutes to view them all (and that was us just gracefully browsing through them.)
Before getting back into the car to start our drive again, we dabbled our feet in the small but refreshing splash park. The cool seemed to shrink wrap our puffy feet because they slipped into our shoes with much more ease when we were done.
(Mural next to splash park. Oklahoma seems to think very highly of their future:) )
For some reason... unknown to both of us... we completely forgot about Arkansas. I know, I know, just call us Ms. South Carolina. So plans changed rapidly when we had to add another state to drive across into our travels. Littlerock would be where we slept... Until we came across the best find ever! Peteit Jean park, AK. A privately owned and operated camping paradise!!! The place included a reserved spot for tent and car, toilets, trashcans, bathhouse (which we both took advantage of as we let the first form of water touch our bodies in three days wash over us), the surrounding of incredible trees, and a short walk to a breath-takingly still lake, all for a whopping $19.75. Score! You can only imagine how many times we high fives each other.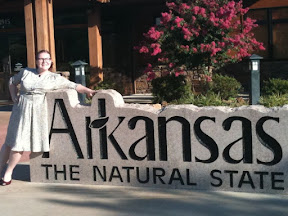 We know, you are incredibly jealous.
How could we have ever forgotten about Arkansas?! It has definitely climbed the charts to be one of our favorites thus far.