So, we woke up in beautiful Petit Jean Lake Park.
And boy, is it stunning. Absolutely breath-taking. It was not, however, the "best night's sleep ever!" like we had hoped. We pulled the mattresses out and slept under the stars. Unfortunately, sleep was few and far between, whatwith Madi(e) swatting mosquitoes away every 5 seconds and I almost suffocated because I decided to sandwich my head between two pillows so I couldn't hear them buzzing any more. By morning, it felt like my extremities were on fire from all of the bug bites and - I kid you not - I have constellations of bites around the equator of my torso.
But, those bath houses sure were worth it.
As a side note, I've been trying really, realllllly hard not to scratch those suckers, but I'm failing in my resolve.
Arkansas was, though, a highlight of our trip thus far. Madi(e) has proclaimed that she would not mind living there, with quaint little towns and the hill people not too scary. There was even a gas station with vintage, authentic gas pumps that don't have credit card machines and you watch the numbers spin up as you pump. Awesome.
We buckled up and barreled on into Tennessee.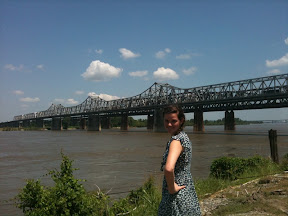 (We took a quick stop at the Mississippi River as we crossed over the border.)
So as to not give you a play-by-play, I'll skip to the highlights of Tennessee... Which is basically this: Graceland is awesome. Neither Mad nor myself are die-hard Elvis fans and we did not emerge as such, but we sure did leave with a much greater appreciation of the sex appeal of Elvis. Not only is he The King, but he's also a, no
The
Stone Cold Fox to which all other foxy men must be compared.
Case in point: Elvis in scruff. We considered keeping this picture to ourselves, but we thought that it would just be too cruel of us to deprive the women of the world a knowledge of Elvis' scruffy hotness.
(Just in case you can't tell, I'm hunching over to imitate the sexy beast in the picture.)
There were several things we didn't know about Elvis that we ended up learning whilst touring his abode: Elvis was a twin!!, he bought Graceland when he was 22, he met Priscilla in the army (and they dated for 7 years!), he broke his own attendance record TWICE in Vegas and he, in his own words, "is crazy."
And I think the thing were most shocked by is that he's also a
terrible
decorator. Here's some evidence:
He put ruched paisley fabric all over everywhere in the pool room. Literally from floor to ceiling. And then he accented it with matching couches.
And while I personally loved the graphic nature and yellow+navy in the TV room, it is a bit much for, you know, a
room
.
We didn't grab a picture because we were way too disoriented, but there was also a WHOLE room covered - floors, walls and ceiling - with thick, forest green shag carpeting. Eek.
After we stocked up on postcards from the gift shop (which neither of us have much heart to actually part with by mailing to someone), we got in the car and rolled through the rest of Tennessee.
As I write this, we're excited to be closing in on DC so that we can get out of this car for a couple of days. We'll do an update soon, though, so as to assure you we're still alive.