Since Lauren is driving right now, she has asked me, (Madi(e)), to do a guest post. Enjoy!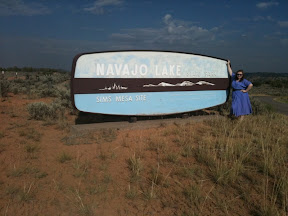 Our morning started off with a view of "Colorado's Answer to Lake Powell",(unfortunately, there is no comparison). With no bald eagle present and, remarkably, no encounters with any mutant deers, we headed to Albuquerque with high hopes of experiencing the best of the Southwest.
Lauren took a snooze and I drove through reservation after reservation after reservation. While New Mexico's landscape is pretty redundant, at least there is something to look at. Lauren woke up just in time to get to Albuquerque.
Turns out, New Mexico is a total bust! Even the lure of ancient petroglyphs and re-enactments of cowboy shows could not hold our interest. Satiety and sleep deprivation only made the hot, dry, dusty state even more unappealing. Trying with all our fatigued might, we thought we would try hitting up a carnival. Billboards of Cliff's Amusement Park promised fun and excitement with rides like the 'New Mexico Rattler', 'Falling Star', 'Super Fireball', 'Musik Express'. While our excitement was high, the turnoff came when we found out that their main attraction was the 25th funnest wooden roller-coaster in the world! (Which, let's face it, is just not that impressive).
So we decided to ditch. There was absolutely nothing that could sway us to stay in that state and every part of us was just itching to get the (excuse my Texan)
hell out if there!
Okay, so while we aren't trying to be Debbie Downers, the truth is there isn't much of a silver lining for New Mexico. So how 'bout we give you the turquoise lining?
Things we liked:
•All 6 of their license plate designs
•The sky... (it actually was a very pretty blue, dotted with marshmallow-like clouds)
•And last but not least on this exhaustive list, the big purple bushes.
Oh wait! Our absolute favorite thing about New Mexico?... LEAVING!
(Hopefully the wheat is yellower on the other side of the state line... Texas here we desperately come!)