New York City. In a word: amazing. We had such a whirlwind time there and crammed so many awesome things in that by the time we left, we were ready to drop.
We got to Madie's uncle Garn's drop dead gorgeous place on the upper east side of Manhattan late and had just enough time to take in the view from his balcony (see the picture above), shower and sleep.
The next morning, we woke up and went across town to go to church in the chapel that sits on top of the Manhattan temple. After getting there a bit late due to my inability to remember the MTA and my total lack of sense of direction, we were able to listen to a few really fantastic talks in Sacrament meeting and a lesson that really got me thinking. Madie even found someone that she knew from Provo! What a small world, eh?
After Church, we walked back through the park and grabbed some street food on Central Park South. Madie approved heartily. She says: "The meat was so tender it melted in my mouth. It was pretty spicy, though, which didn't help on a hot day... But coupled with the white sauce it totally hit the spot." After eating lunch, we continued on our way across town over to the east side and Mad was lucky enough to find a great steal from a street vendor on a pair of bright yellow wayfarers. They look totally rad.
We walked over to Lex and Mad was introduced to the glorious splendor that is H&M. (Word to the wise: they are finally,
finally
opening an online store so all you Westerners are able to check it out, too.). We tried on a ton of stuff and nothing was fitting exactly right, but then whilst trying to walk out empty handed, the most feminine, goddess-y pink champagne colored dress ever practically leapt into Madie's open arms and said, "You'll regret it if you don't buy me!" Back to the dressing room we went where we were given coupons for $5 off (which really sealed the deal).
After that awesome find, we traipsed over to 5th Ave. where I got some falafel from the cute Halal vendor (with whom I flirted shamelessly) and then walked down to Tiffany's. As always, they were stocked to the rims with sparkling baubles, but I'm still not totally smitten with Tiffany's style.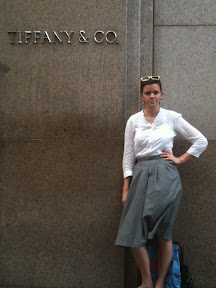 And then, guys, you are not going to believe what we did next. We went to the very tippity top of the 30 Rock building. Alas, we didn't see Kenneth or Jack Dounaghy. We did, however, catch stunning views of the park and the Empire State Building.
The elevator was super high speed and rocketed us up over 100 floors with a totally terrifying see-through ceiling that made us feel like we were gonna bust through the roof all Willy Wonka style. The elevators went so fast that our ears popped twice in the short 45 second ride. Totally nuts, yo.
After that thrilling adventure, we headed downtown to Ground Zero, which was somewhat lackluster due to the fact that there isn't really anything there quite yet. So we walked over to the nearest Starbucks, acquired some herbal refreshment and dibbs'd hot men in the nearest park.
From there we went to Times Square to take some photos and experience the lights. I'm going to let these pictures speak for themselves:
Madie's only commentary: "I did NOT know he was going to get that close." My only commentary? "How rad is Madie's
uncomfortable
face?"
After that awkwardness, we walked about 6 blocks that felt like
miles
in order to get Mad a "real New York hotdog" at Papaya Dog. Not wanting to quash any hopes and dreams, I didn't tell her how gross they are. Madie's reaction? "Ummmmm...gross. And I can't quite pin the awkward after taste."
We dragged ourselves back to Garn's place and tucked ourselves into bed for an early wake up call.
E.a.r.l.y. wake up call. 7 am is just too early after 10 hours of walking around and only a few merely hours of sleep. Why would we get up so early you ask? Because it was my sisters birthday and we were going to surprise her. She had no idea we were in New York so you can imagine the cuss words of surprise that fell from her lips when we showed up on her doorstep with breakfast fixings.
We were able to make birthday breakfast (strawberry creamcheese stuffed french toast with eggs and apple wood smoked bacon) and things were going great until the stove broke and would not turn off.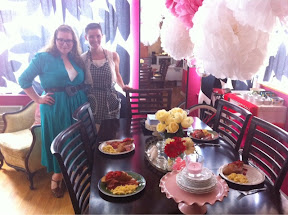 We decided to just unplug the oven and let management deal with it.
After getting all dolled up, we went out to ride the Staten Island Ferry. It was free and you pass The Statue of Liberty so it's a total steal fir a tourist, 'cept that you are herded onto the ferry like cattle.
It was so great to spend the day with the birthday girl! She was charming and gracious and I'm glad Madie got the chance to meet her.
Happy Birthday Sam!
We barely managed to stay awake long enough to get to Cape Cod and so with weary minds we bid you adieu.